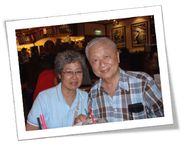 Lifegate Church Inglewood present the Mission Outreach Speakers Tour 2012 – in association with Ethnos Asia.
Speakers Dan & Elaine Ju are Chinese Americans who have spent a number of years as missionaries, primarily with Ethnos Asia among the Uyghur – an unreached people group who live in Xingxang province in North East China. The Uyghur are of Turkish decent and of Muslim origin. To date, Uyghur believers number in the hundreds out of a people group of some 12 million.
WHEN: 7pm Sat 29th September
WHERE: Lifegate Church, 27 Cutfield Street, Inglewood
COST: An offering will be taken up towards the works of Mission Outreach and Ethnos Asia.