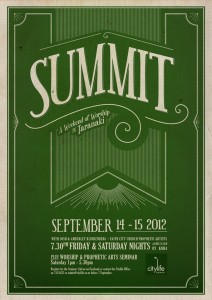 …a weekend of worship in Taranaki featuring the Inflame Worship Team from Te Aroha, the Faith City Church prophetic art crew from Auckland and local Taranaki musicians. The purpose…to gather all worshippers in the broadest sense…musicians, scribes, artists…all creatives, from around our region, to converse about, and explore our pursuit of God and the heights of His presence…and what it really means to live and worship in Spirit and Truth. Come and hang with us at CityLife Church with the teams for two nights of worship and a day of workshops.
WHEN: 14-15th Sep 2012
WHERE: CityLife Church, Egmont Street, New Plymouth
COST: Workshops/Mini Seminars on Saturday (costs to be confirmed)…afternoon tea provided too.
SUMMIT 2011 was the beginning of what we believe will be a regular Taranaki worship event…last year was inspiring with some epic worship and activating workshops. Don't miss this year!
PROGRAMME:
FRIDAY 7.30PM Night of worship – All welcome! (Koha)
SATURDAY 1PM – 6.30PM Workshops/Mini Seminars through to a dinner gathering to hang with other like-minded creative types
SATURDAY 7.30PM Night of worship – All welcome! (Koha)