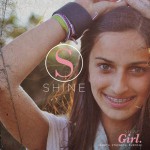 Shine is a collection of Hillsong personal development mentoring tools for girls and women, designed to develop an understanding of personal worth, strength and purpose and to help girls realise their full potential. Both "ShineGirl" and the "Strength" programme for boys are being pioneered at present in some Taranaki schools.
ShineGirl information and training:
When: 12pm Friday 27th June
Where: St Luke's Church, Mangati Rd, Bell Block
Cost: None
For further information and to register, please contact Debbie Larsen 06 7544942.
ShineGirl is….. For every girl.
Shine is run as an 8 week course with a maximum of 15 participants. Continue reading →