'Engage Conference'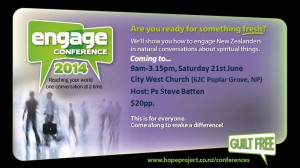 Reaching your world one conversation at a time. Do you feel ready for something fresh? The Engage Conference is part of the equipping arm of the Hope Project's, which aims to initiate a conversation about Christian faith with New Zealanders. The conference will model equipping that we think will work wonders with 'average' NZ Christians.
When: 9am – 3.15pm Saturday 21st June 2014
Where: citywestchurch 62c Poplar Grove, New Plymouth
Cost: $20 – Registration opens from 8am.
Evangelism is Continue reading →