This is a great seminar coming soon to New Plymouth to help us position our churches for growth.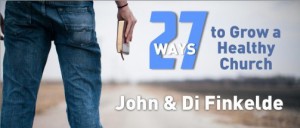 Access John Finkelde and Wayne Peat's 30 years of practical pastoral leadership experience and their wealth of coaching and consulting knowledge.
Fed up with all the admin? 
Frustrated by the lack of resources? 
Discouraged by irregular attenders?
Overwhelmed by all the options?
Exhausted by the demands on your time?
Learn how to Grow a Healthy Church and discover how to:
Get increased prayer support
Raise more finances
Build emotional energy
Motivate time poor volunteers
Attract and retain visitors
Develop a sustainable ministry life
And much more
"27 Ways to Grow a Healthy Church " is a One Day Seminar being held through 4 centres in New Zealand with John Finkelde and Wayne Peat
The 23rd of March is when this seminar will be coming to New Plymouth
REGISTER TODAY http://growahealthychurch.co.nz/collections/seminars/products/27-ways-to-grow-a-healthy-church